In this week's update: KMA Conference, completed Old Mill work, new wheat weavings, and more!
In our weekly update, keep up to date on what staff and volunteers at the Lindsborg Old Mill & Swedish Heritage Museum are working on to lift up the history of Lindsborg and the surrounding region. This weekly update both looks back at what happened last week and looks ahead at what's coming.
For October 30 – November 4, 2023:
Our "Museum Maintenance Surplus Sale" last Saturday of only non-collection items raised about $350 for the museum and helped to clear out museum storage space so we are better using our resources.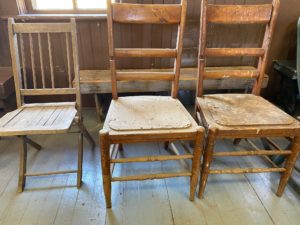 We currently have a "second-chance" match campaign happening right now through the Smoky Valley Community Foundation, so your generosity with any new donations right now are DOUBLED (maximum per organization is $2,500).

To take advantage of this opportunity donations HAVE to be sent by Monday, November 13!

Help us to not leave this "free" money on the table with your gift today! There's three easy and convenient ways to give:

1) Leave a check at the Bank of Tescott Night Deposit slot (on Lindsborg Main Street). All checks should be written to SVCF and note "Lindsborg Old Mill Museum" in the memo field.

2) Mail a check to SVCF P.O. Box 84, Lindsborg, KS 67456, postmarked by November 13.

The Flickr photostream for the Historic Image Database project now has more than 1,200 photos and 33,000 views!
This week museum staff will be at the Kansas Museums Association conference in Hays, November 6-8. Adam Pracht, Marketing and Communications Director, will be a featured presenter on creating technology-based museum experiences on a budget.
Tuckpointing and repointing on the Old Mill exterior was completed last week. This historic building is 125 years old in 2023, but this project has it looking like new!
The Handy Crew worked on the north side of the implement building on Heritage Square.
We've added about 20 new wheat weavings to the online gift shop for purchase! See the new varieties HERE.
This is the perfect time of year for membership renewals or to become a member for the first time! Learn more HERE.
We also have officially kicked off our Endowment Campaign 2025 to add $1 million to our endowment in supporting our annual operational budget to make sure that not only do we preserve these historical treasures, but we can also "keep the lights on." Read more on the flyer and giving form below, or visit to

www.oldmillmuseum.org/donations

to learn more!
Thanks to Our Weekly Volunteers!
Jerry Sperling, Margaret Presley, Betty Amos, Jerry Hammerton and Leland Nelson!